By Dr. Katka Novakova, MD (Europe), ND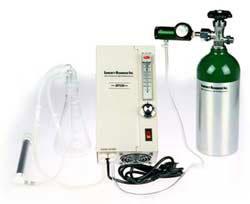 Ozone is a safe and effective treatment for numerous acute and chronic conditions but with the flu season upon us, I'd like to focus on how ozone can help with infections such as the flu, including H1N1, and upper respiratory infections such as cough, sore throat, sinusitis, and strep. Ozone therapy has been used all over Europe, Canada, Asia, Australia, Mexico and many other countries for over 60 years, with great results.
Dan Rees, a patient of mine, showed up at my office last winter with a bad case of flu and shortness of breath so severe he was ready to go to the ER. His response to ozone treatment:
"I felt better the next day after the first treatment. I have used this when getting sick instead of antibiotics and flu shots. With the first signs of a cold or flu starting, it stops it immediately."
Two primary ozone treatments:
Minor ozone is a treatment in which a small amount of a person's blood is mixed with ozone and injected intramuscularly back into the body. This helps to stimulate the production of natural killer cells and the nonspecific part of the immune system, which is the first line of defense against flu viruses and other pathogens causing upper respiratory infections. Minor ozone works great as flu treatment as well as flu prevention, especially when repeated 2-3 times during the flu season. It may also be used to prevent or treat illness when one travels in a commercial airplane or after exposure to a sick person.
In case of more severe flu or upper respiratory illnesses, Major ozone would be indicated. During a major ozone treatment, 200cc of blood is withdrawn from the body into a vacuum-sealed glass bottle using a closed sterile system. The blood is then mixed with precisely measured amounts of ozone and oxygen and re-infused back into the body. This treatment is highly anti-viral, anti-bacterial, anti-fungal and helps the immune system to kill those pathogens that cause illness.
Ozone is also an excellent treatment for…
Systemic Lupus
Rheumatoid arthritis
Hepatitis B and C
Chronic strep and staph infections
HSV and Epstein Barr Virus
Candida/fungal infections
Post surgical healing
Acute injuries
Heart disease
Circulatory disorders
Immune system disorders
Allergies
Cancer
Here is some additional reading if you are interested in learning more about Ozone Therapy
For more information about ozone therapy or with any questions, feel free to contact Dr. Katka Novakova at 480-524-4304.