The Benefits of IV Therapy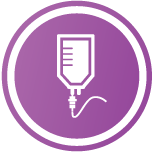 Vitamins, minerals and amino acids are used by the body to run and regulate hundreds of metabolic reactions – everything from energy production to detoxification to creating the building blocks for all organ systems. IV therapy is absorbed directly into the vein and therefore bypasses the digestive tract. This delivery method aids in 100% absorption of high quality vital nutrients, helping the body achieve serum concentrations not available by oral supplementation.
Dr. Katka offers a variety of IV therapies to:
Aid in disease prevention and support vibrant health and longevity
Speed surgical recovery
Support the body through acute conditions, such as colds, the flu, sinusitis, bronchitis, pharyngitis, and UTIs
Help alleviate allergies, pain, chronic fatigue, and fibromyalgia
Provide support for liver and gallbladder problems
Improve cardiovascular issues, such as hypertension, high cholesterol, atherosclerosis, circulatory problems, and arrhythmias
Help chronic viral and bacterial infections, such as Lyme disease, hepatitis, herpes simplex, strep, staph, and candida infections
Improve lung issues, such as chronic or acute bronchitis, asthma and COPD, as well as musculoskeletal problems (arthritis, joint and muscle pain)
Aid with anxiety, depression, and insomnia
Reduce heavy metal toxicity and overall toxicity
Decrease overall body inflammation
This is a basic list of the many IV's offered:
IV ozone therapy (helps with chronic and acute infections, degenerative diseases, cardiovascular health, allergies, and disease prevention)
Prolozone (supplies oxygen to joints and muscles helping with pain and faster recovery)
Hydrogen peroxide IV (helps to alleviate acute and chronic infections, especially colds, the flu, sinusitis, lung infections, and lung problems)
Vitamin-mineral IV (can be helpful in prevention or support of any condition)
Detoxification IV (supports all phases of liver detoxification, aiding in overall elimination of toxins and general health)
Chelation IV (helps with heavy metal toxicity and atherosclerosis)
Condition specific IV therapy (combination of nutrients and dosages tailored to specific symptoms or condition)
After a comprehensive evaluation Dr. Katka may prescribe one or more therapies from the below IV menu or create an individual IV protocol targeted to your specific needs.
___________________________________________________________________
Intravenous Therapy Menu – Nutritional & Bio-Oxidative Therapies
Nutritional IV Therapies – All of the vitamin C used is derived from cassava, tapioca or beets, thus avoiding any GMO corn as a potential source.
Supreme Myers Drip A specific combination of vitamin C, B-complex with additional B5, B6 and B12, magnesium, and calcium to help support basic metabolic functions, increase energy and stamina, and alleviate allergies, fatigue, muscle spasm, insomnia, headaches and anxiety, among other things. It also aids in healing when administered before and after surgery. Other supportive nutrients such as glutathion and other amino acids are added, as well.
Complete Rehydration IV Contains trace minerals, such as zinc, copper, manganese and selenium to supply essential and often depleted trace minerals, which aids in hydration and basic metabolic functions. Additional macro-minerals of calcium, magnesium, and potassium are also added, allowing for a deeper level of mineral rebalancing and rehydration. Minerals and trace minerals are essential factors of metabolism, aiding vitamins in properly performing their many metabolic functions, thus helping with energy production, self-repair, and detoxification. For example, magnesium itself is responsible for over 300 different metabolic reactions in the body, yet it is found to be deficient in over 80% of Americans.
Anti-Oxidant/Glutathion IV Contains glutathione (an antioxidant which aids in detoxification and protects cells from free radicals) combined with homeopathic Traumeel to help to decrease pain and inflammation during acute or chronic illness. It is also used to speed recovery from surgery and for detoxification purposes. (See also glutathione push below.)
Detox & Liver Support IV The liver is a powerful organ responsible for up to 500 different functions in the body. This IV supplies vitamins, minerals and amino acids to aid with both phases of liver detoxification as well as support bile production and elimination of bile out of the liver. Indicated for many conditions including pain, chronic illness, fatigue, fatty liver, high blood pressure, high cholesterol, headaches, insomnia, inflammation, or even a hangover. (Includes glutathione push.)
High Dose Vitamin C IV This IV is specifically designed to help the immune system fight acute and chronic viral or bacterial infections, such as hepatitis or Lyme disease. High dose vitamin C aids in wound healing, helps to neutralize toxins and heavy metals, and has shown to be a highly supportive therapy during cancer treatment.
Chelation IV combines the power of vitamins and minerals (such as vitamin C, B vitamins, and magnesium) with the chelating agent EDTA (ethytlene diamine tetra-acetic acid). During the process of chelation, EDTA has the ability to bind heavy metals such as lead, cadmium, mercury, and others, making it a powerful therapy in heavy metal poisoning. It has also been used successfully in patients with cardiovascular diseases such as atherosclerosis, diabetes, and poor circulation due to its ability to bind calcium and remove accumulated plaque buildup.
Restorative IV Contains Phosphatidyl Choline (PC), which is a key component of every cell membrane. It is responsible for optimal cell health and cell function by maintaining proper membrane fluidity. PC has been used in Europe for the treatment of atherosclerosis and plaque buildup for many years. Due to its cell supportive and regenerative properties and its important function in fat metabolism, it has been effectively used for many conditions of the nervous system (Alzheimer's, Parkinson's, Multiple Sclerosis, and mood disorders), the liver (alcoholic liver disease, fatty liver, hepatitis, high cholesterol, eczema) and the gut (Irritable Bowel Disease, Crohn's Disease, and Ulcerative Colitis). Phosphatidyl Choline also increases the effectiveness of glutathione and therefore is used to support detoxification (especially of the nervous system and the liver.)
Anti-aging IV Contains alpha lipoic acid, which is an effective antioxidant with anti-aging properties. It helps increase energy and blood flow to the nerves, as well as the effectiveness of vitamins C and E and other antioxidants. Alpha lipoic acid has been shown to restore intracellular glutathione levels, increasing levels in the brain, and also to help reduce insulin resistance; therefore, it is used to assist in diabetic neuropathy, as well as brain atrophy, Alzheimer's, and atherosclerosis.
Joint and Muscle Support IV Contains MSM (methyl sulfonyl methane.) This IV is very effective for urological problems, such as interstitial cystitis, and for musculoskeletal issues, such as scleroderma, fibromyalgia, and rheumatoid arthritis. MSM combined with N-acetyl-cystein and glutathione can be an effective treatment in mercury poisoning, as it helps to neutralize the effect of mercury toxicity.
Amino Acid Regeneration IV This IV supplies not only vitamins and minerals but also a complete amino acid solution to help to regenerate tissues. It supports wound healing, helps to rebuild muscles and restore organs. Amino acids are key precursors to brain neurotransmitters and transport molecules enhancing thus brain health and overall cellular health and communication.
Relaxation IV Is specifically designed to help to calm down anxiety and asthma and support overall body and mind relaxation by supplying complete amino acid complex, additional calming amino acids, such as Taurine, high dose vitamin C, minerals and B- vitamins.
Glutathione Push This can be administered by itself or as a follow up to any IV. Glutathione is a key component of cell health. It is a powerful intracellular antioxidant present in every cell of the body, protecting it against free radical damage, and aiding the body in detoxification and cell repair. It can also help to support brain function, boost the immune system, and prevent against oxidative stress, one of the key precursors to inflammation and chronic illness.
Bio-Oxidative Therapies – IV therapy involving oxygen
Hydrogen Peroxide IV
Hydrogen peroxide (H2O2) is produced naturally in the cells. It stimulates the immune system to fight bacteria, virus, fungi, and parasites. It increases oxygenation in the lungs, affects the endocrine system by increasing the production of progesterone and thyroid hormone and decreasing the production of stress hormones, and also mimics insulin. IV hydrogen peroxide has been used to treat many conditions such as acute and chronic infections (cold, flu, Epstein Barr Virus, Cytomegalovirus, Herpes virus, Lyme disease), lung problems (asthma, COPD, emphysema), cardiovascular and circulatory problems (arrhythmias, heart attack, vascular headaches), as well as Parkinson's disease, MS, arthritis and many other conditions.
Ozone Therapy
Medical ozone has been successfully used worldwide for over 60 years. Ozone has powerful anti-bacterial, anti-viral, anti-fungal properties, as well the ability to neutralize toxins, boost the immune system, and increase delivery of oxygen to all tissues. This combination of properties is why ozone is indicated to treat many conditions, such as cancer, circulatory disorders, heart disease, wound healing disturbances, chronic fatigue, and immune and autoimmune disorders (allergies, systemic lupus, and rheumatoid arthritis). Ozone therapy is extremely effective in fighting acute infections like colds, the flu, and upper respiratory infections as well as chronic conditions such as Hepatitis B and C, Epstein-Barr virus, Cytomegalovirus, Herpes simplex and Zoster viruses, Lyme disease, Streptococcal and Staphylococcal infections and Candidiasis. It is also a great support for disease prevention and can help increase athletic performance as well as decrease post-athletic recovery time. There are many ways to use ozone therapeutically:

Ozone therapy MAJOR is effective for all above-mentioned conditions.
Ozone therapy MINOR is an intramuscular application of ozone mixed with the patient's blood, which is highly effective for treatment and prevention of flu, for treatment of acute onset of cold and upper respiratory infections, as well as chronic viral and bacterial infections. It is also effective as illness prevention before traveling.

Injectable Prolozone is the injection of nutrient rich solution and ozone gas into joints, trigger points, scars, and painful areas to help with pain, inflammation, and post-trauma and/or post-surgical recovery.
Vaginal insufflation with Ozone is useful to treat reproductive conditions and bladder infections/UTIs.
Colon insufflation with Ozone helps to treat diseases of the colon, such as IBD, colitis and diverticulitis. It also helps to increase the detoxification of the liver.
Ear insufflation with Ozone is used for bacterial or fungal ear infections. It does not cause any pain and children tolerate it well.