Dr. Katka's 21 Day Cleanse
"Our overall health is dependent on our body's ability to eliminate toxins."
~ Dr. Katka Novakova
WHAT YOU WILL GET:
1. Colon and liver supportive and detoxification supplements of the highest quality ($150 value)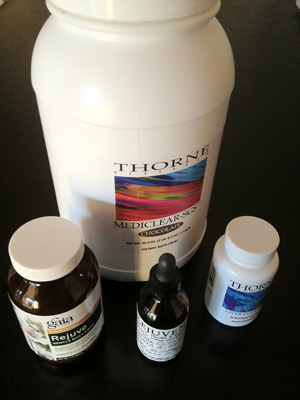 Medi Clear SGS (Thorne Research) — a complex liver and whole body support and detox with a full spectrum of vitamins, minerals, amino acids, as well as additional anti-oxidants
Liver cleanse (Thorne Research) — herbal liver detoxification support
Rejuve powder (Gaia Herbs) — helps to sooth and heal the inflammation in the GI tract and to bind and eliminate toxins
Sweetish bitters (Gaia Herbs) — help to increase peristalsis (movement of the GI tract), production of digestive juices and therefore the breaking down and absorption of food
2. Four pre-recorded calls with Dr. Katka
On day one (call #1) and at the end of week one (call #2), week two (call #3), and week three (call #4) – with detail instructions on what to do, how to do it, how to set yourself up for success and how to use your powerful mind to your advantage. ($600 value)
3. Dr. Katka's unwavering support through all 21 days
Each week I will answer your questions, guide you through the physical and the mental emotional aspects that will emerge during this cleanse and help you make this a great experience. You will also have the support via a private FaceBook group.
4. PDF Instruction Workbook
With detailed "how to" and supportive information for you to refer to as needed.
The 21-Day Cleanse Home Program
WHEN: Whenever you are ready
WHERE: In the comfort of your home (calls are pre-recorded for you to listen at the time that works for you)
WHAT YOU WILL NEED: Pen, paper, phone, open mind and willingness to go for it all the way!
(Total Value: $650)
Special Price: $250
*Disclaimer: By signing up for this program you understand that the above 21 Day Cleanse Program is not intended to treat or diagnose and is designed for supportive purposes only.
Here are two videos that help explain a bit more about what to expect with this 21 Day Cleanse and hopefully answer some question to help you make a decision.
What people are saying about the 21 Day Cleanse:
I'm feeling really good! I was expecting something very different. I've never been so "regular" in my life. I'm really enjoying the cleanse and am feeling better and sleeping better already. My mind is clearer and my body feels good! Thanks so much Dr. Katka for offering this, I've enjoyed it, it was much needed and will in many ways change the way I eat for life."
~ Linda Rettinger, LMT, meaningfulthings
Please feel free to call me for more information.